Latest News!
Co-founder Ralph Alan Cohen, the ASC's director of mission, commented, "To have someone as accomplished and insightful as Ethan join us as our Artistic Director feels both gratifying and sustaining: It speaks to our success in the past three decades and assures that the future of the ASC will be brilliant."
"To say that we're thrilled to introduce Ethan as our new Artistic"Director would be an understatement," said Christopher Little, chair of the ASC's Board of Trustees. "We're ecstatic that Ethan shares our vision that Shakespeare's American Home can showcase Shakespeare and change lives one encounter at a time and know that he will bring new ideas, new creativity and new life to the ASC."
In anticipation of working in ASC's Blackfriars Playhouse, the world's only re-creation of Shakespeare's indoor stage, McSweeny said, "Despite the variety of productions I've been involved with, I am a classicist at heart; measuring up to the extraordinary demands Shakespeare places on every skill that an actor and director possess has been the backbone of my work and training. I want to position the ASC not so much as a place for 'original practices' but as a laboratory for a cutting-edge, innovative company that dares to put the focus of theatre where it should be: on the handmade, on the performer, and on the words."
Twelfth Night WINS
FOUR Helen Hayes Awards,
Including
OUTSTANDING DIRECTION IN A PLAY!
Outstanding Production in a Play
Outstanding Set Design - Lee Savage
James MacArthur Award for Outstanding Supporting Actor in a Play
- Jim Lichtscheidl
"It's a marvelous, comprehensive atlas of the comic world Shakespeare offers up, and this company deftly flips through its pages."
Peter Marks, Washington Post
Coming Up: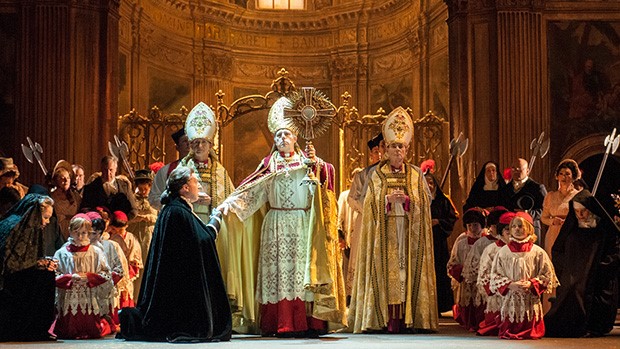 "Puccini's Tosca returns to the stage with Keri Alkema and Latonia Moore sharing the title role. Speranza Scappucci conducts the cast that also includes company debutantes Riccardo Massi and Robert Watson as Cavaradossi. Alan Held is the villanous Scarpia in Ethan McSweeny's production."